This course is open for 12 weeks
9 lesson series
3 hours, 20 minutes of video
About this Course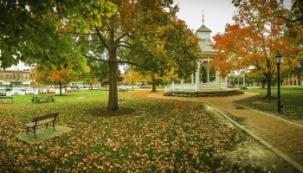 Shooting on location adds vibrancy to the world of your story – whether you're shooting at the Eifel Tower or a dark back alley, the real life always tends to look more…real. But this realism comes at the price. The cost of transporting the cast and crew, working with the public, handling permits, working with local government, dealing with annoyed neighbors, and fighting the elements to get the control you need to craft each shot can be daunting.
That's why in the
Arts & Business Center
Location Course, we walk you through ever step of how to shoot on location from finding the best location to leaving at the end of the shoot and everything in between.
Learn from Steven Spielberg's location manager Mike Fantasia, veteran Hollywood location manager Veronique Vowell, and former San Diego film commissioner Kathy McCurdy.